http://www.wolfwillow.com/Photo/Public/TBIRD/MAIN.php
Sept 2, 2013 - STATUS: Available
This single owner vehicle has received all scheduled dealer service since purchased new in 1989. When last inspected at Northstar Ford in June, 2013, the mechanic described it as being "in excellent condition". Mileage is 165,000 km.
Price: $3700 as-is. All offers considered.
Contact:
e-mail: rxc@shaw.ca (Garth)
Location: NW Calgary just north of Queen's Park cemetery.
If you'd like to have a look I'll send exact address and other information if you send an e-mail.
There are photos of the plate (with VIN) and car at the end of this page.
---
If you are unfamiliar with the "Super Coupe", review the following general information first:
Supercharger delivers enormous torque at almost any speed, in any gear.
Silky smooth balance-shaft V6. When you hear it at all, sounds more like a V12.
4 wheel disk brakes with anti-lock.
Limited slip differential.
Articulated front sports seats. Among the most comfortable seats I have ever experienced. Drive all day and not need a chiropracter.
Superior handling ... combined with all that power, an excellent vehicle in fast, heavy traffic.
Gas filled shocks with computerized dual modes ("Sport" and "Plush"). "Sport" engages automatically during hard cornering/braking but you can choose it manually as well.
Variable-ratio speed-sensitive steering. One of the most enjoyable of Ford features.
Rear wheel drive with sophisticated independent rear suspension.
Excellent visibility - no significant blind spots.
Two section fold-down rear seat. Great for carrying long items like skis.
Analog instrumentation.
---
As applies to this specific vehicle ...
The Good:
165,000 km 95% of which was highway driving.
Never in an accident.
No rust. Still looks great.
Michelin tires with about 50% wear left. Also have the original Eagle GT's with some wear. I found them a bit noisy so replaced them. They are included in the price although you can refuse them.
Interior and trunk immaculate.
Unless on the road, always kept in the garage.
Brake pads recently replaced.
Year old battery.
Premium JBL sound system.
Never burns oil - oil looks very clean even when change is due.
Surpringly good winter car. It took me skiing for years and never had a problem with traction using just all-seasons. Very nice weight distribution and controllable on ice.
As for those days of winter driving ... after every outing on salty roads was taken for a thorough exterior and underside wash - no exceptions - before stowing in garage. It never stood around with salt on it.
What You Should Know:
Some small stone chips, especially in front area and on windshield.
In 1990 or '91 was subject to a minor act of vandalism in another city. This resulted in some small dents and scratches (no mechanical damage) on the right front. On the roof, just above the windshield you can see a small paint overlap as result of the body-shop work. The body shop paint touch-up has proved every bit as durable as the original.
Transmission was replaced around 9 years ago when the original started dropping out of gear under moderate acceleration. The new transmission has been excellent.
Automatic headlight dimmer and rear view mirror dimmer do not work. Quite frankly, they weren't much good even when they did work.
Driver side seat needs some help moving fore and aft when you activate the switch.
Here's the manufacturer's plate: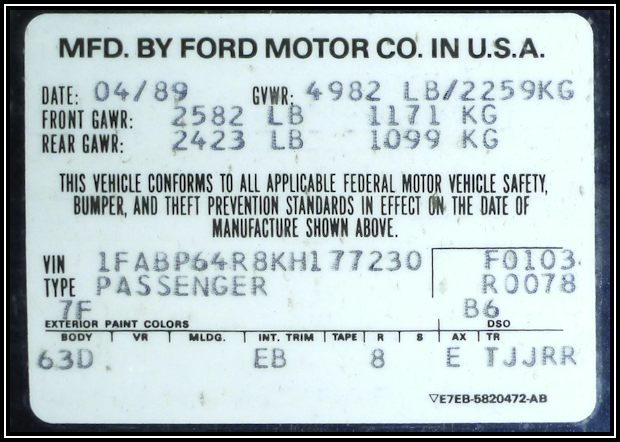 Summary and Snapshots:
This vehicle has been a pleasure to own - exceptionally reliable, comfortable and fun to drive. Annual cost of ownership has been very low.
The following snapshots were taken last fall but this is how it looks today.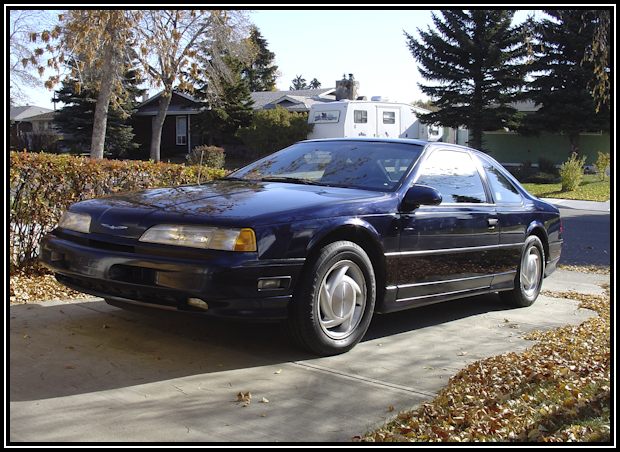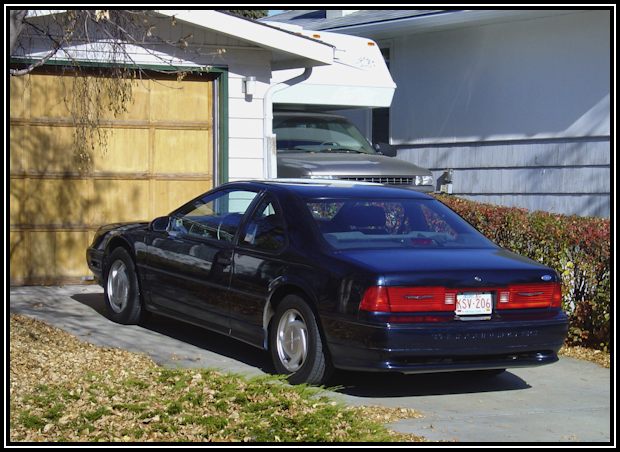 2561